Mateusz Mackos, MD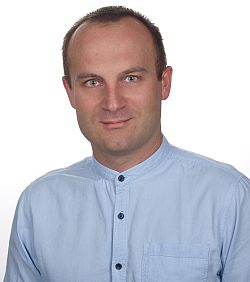 Gradute and research worker at the Jagiellonian University College of Medicine. Orthopaedic Specialist awarded by the Examination Board of the Ministry of Health in Poland in 2014.
In 2014 passed an exam in Trauma and Orthopaedic Surgery with distinction.
Well skilled and experienced surgeon working at Orthopaedic University Hospital in Zakopane since 2008.
In his practice he focuses on physical examination and medical history of patients as the main steps of accurate diagnosis.
Ambitious, improves his skills constantly at different courses around Europe.
Volunteer at the humanitarian organization Doctors Without Borders (MSF), in 2015 trauma surgeon on an emergency mission in Yemen, where he performed 250 operations in 6 weeks at war zone.
orthopaedic consultations of adults and children

ultrasonography of the musculoskeletal system (Ultrasound Scan)

sports medicine

intra articular injections

arthroscopies (reconstruction surgeries of shoulder and knee joint)

correction of foot deformities (hallux valgus, rigidus)

peripheral nerves release (carpal tunel syndrome, etc.)

arthritis treatment

arthroplasty of the shoulder, hip and knee joints

wound management

osteoporosis

spine surgeries (treatment of the congenital and aquired spine patologies)